Sharjah Art Foundation (SAF) is pleased to announce the list of over 60 artists participating in Act I of the forthcoming Sharjah Biennial 13, Tamawuj (SB13):
Noor Abuarafeh, Lawrence Abu Hamdan, Abbas Akhavan, Tamara Al Samerraei, Allora & Calzadilla, Maria Thereza Alves, Kader Attia, Tonico Lemos Auad, Ismaïl Bahri, Sarnath Banerjee, Yto Barrada, Abdelkader Benchamma, Ursula Biemann and Paulo Tavares, Dineo Seshee Bopape, Jonathas de Andrade, Mariana Castillo Deball, Roy Dib, Vikram Divecha, Barış Doğrusöz, Koo Donghee, İnci Eviner, Em'kal Eyongakpa, Harun Farocki, Fehras Publishing Practices, Future Farmers, Daniele Genadry, Deniz Gul, Shadi Habib Allah, Taloi Havini, Takashi Ishida, İz Öztat and Fatma Belkıs Işık, Lamia Joreige, Christoph Keller, Samir Khaddaj, Mahmoud Khaled, Nesrine Khodr, Basim Magdy, Metahaven, Hind Mezaina, Mochu, Oscar Murillo, Joe Namy, Uriel Orlow, The Otolith Group, Christodoulos Panayiotou, Khalil Rabah, Jon Rafman, Raqs Media Collective, Stéphanie Saadé, Abdullah Al Saadi, Natascha Sadr Haghighian, Ghassan Salhab, Roy Samaha, Massinissa Selmani, Setareh Shahbazi, Nida Sinnokrot, Walid Siti, Monika Sosnowska, Zhou Tao, Mario García Torres, Jorinde Voigt, James Webb, Rain Wu and Eric Chen, Paola Yacoub, Fathi Zamroud.
Opening Week Programme dates of Sharjah Biennial 13: March 10 – 14, 2016
Sharjah Biennial 13 curator, Christine Tohme, draws on her informal networks and personal bonds to critically rethink the role of the biennial. Rearranging and expanding Sharjah Biennial's structure–both in terms of time and space–Tohme questions the format of large-scale, centralised exhibitions with a vision that is dynamic, discursive and locally rooted. Her vital interventions take place against the backdrop of infrastructural fragility within regional institutions, and channel friendships and collaborations–a practicality which has been necessary for the survival of many art landscapes, institutions and individuals.
Underway since the launch in October 2016 of SB13 School, a yearlong educational programme focusing on local infrastructures and empowering various communities in western, central and eastern Sharjah, and 'chip-ship', a web-based collaborative research platform with programmes running through October 2017, Tamawuj extends far beyond Act I in Sharjah (March 10-June 12, 2017). Tohme draws on Sharjah's unique positioning in the region in order to expand the biennial through various nodes, inviting four 'interlocutors' to create varied permutations of artistic conversation and production across four other sites: Dakar, Senegal; Ramallah, Palestine; Istanbul, Turkey; and Beirut, Lebanon.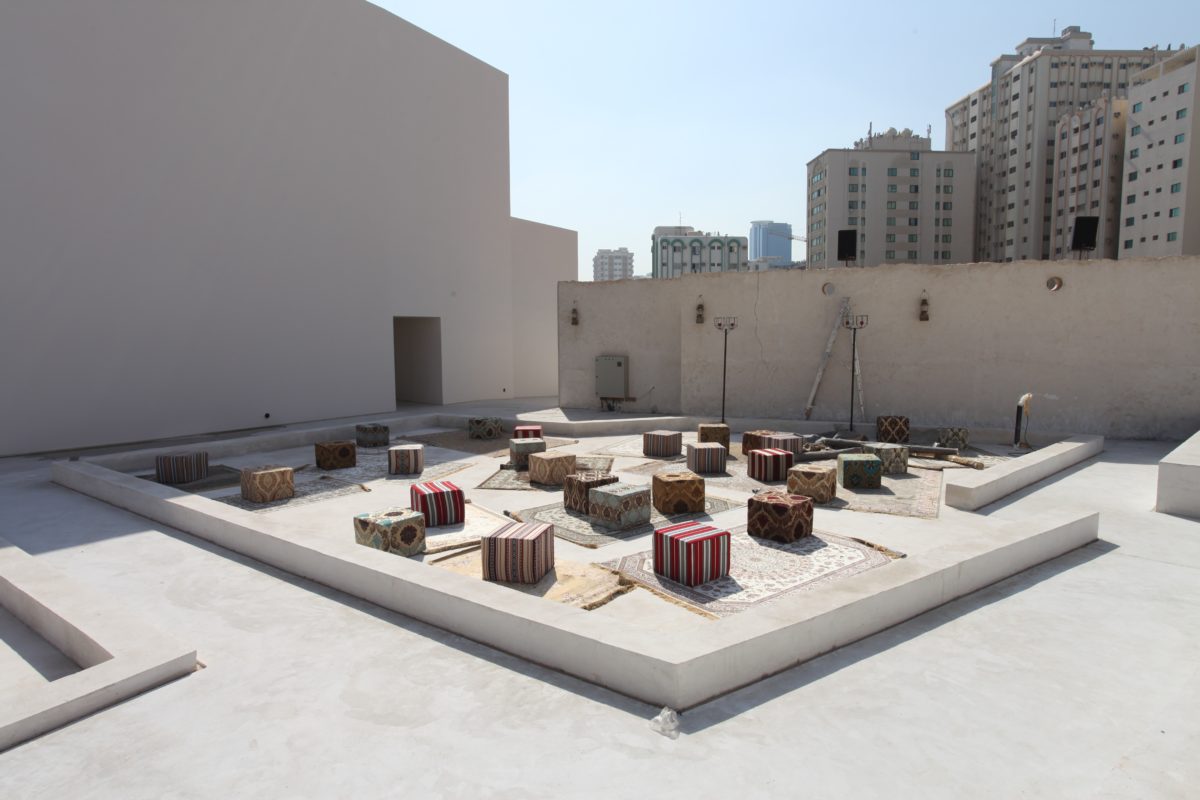 These localities were selected not for their geopolitical attributes, but rather for the long-standing affiliations, as well as the common history and vision, Tohme shares with the interlocutors. These four actors will each envision and conceive a different programme, rooted in their local context and engaging with a particular keyword, to which a body of researchers, artists and thinkers will also respond. The thematic focus of SB13 is grounded in the four keywords water, crops, earth and culinary, which form the foundations of social interaction and exchange. Between 8 and 9 January 2017, artist Kader Attia will launch the first off-site project around water in Dakar, a workshop taking place at the Cheikh Anta Diop University (UCAD); curator Zeynep Oz will lead the Istanbul programme related to crops (May 13, 2017); curator Lara Khalidi will address the subject of earth in Ramallah (August 10, 2017); and Ashkal Alwan will organise the closing Act II of the biennial alongside a project around the keyword of the culinary, both in Beirut (October 15, 2017).
Just as the thematic keywords are porous and feed into one another, SB13 places researchers and interlocutors in conversation with one another, and with Sharjah. Its multi-city, multi-part programmes are envisaged as infrastructures to channel knowledge transmission and information sharing between artists, curators, editors, researchers and the general public. This fluidity of knowledge irrigates new, enduring terrains of collaboration and references the threefold meaning of Tamawuj: a rising and falling in waves; a flowing, swelling, surging or fluctuation; and a wavy, undulating appearance, outline or form. (Press Release)