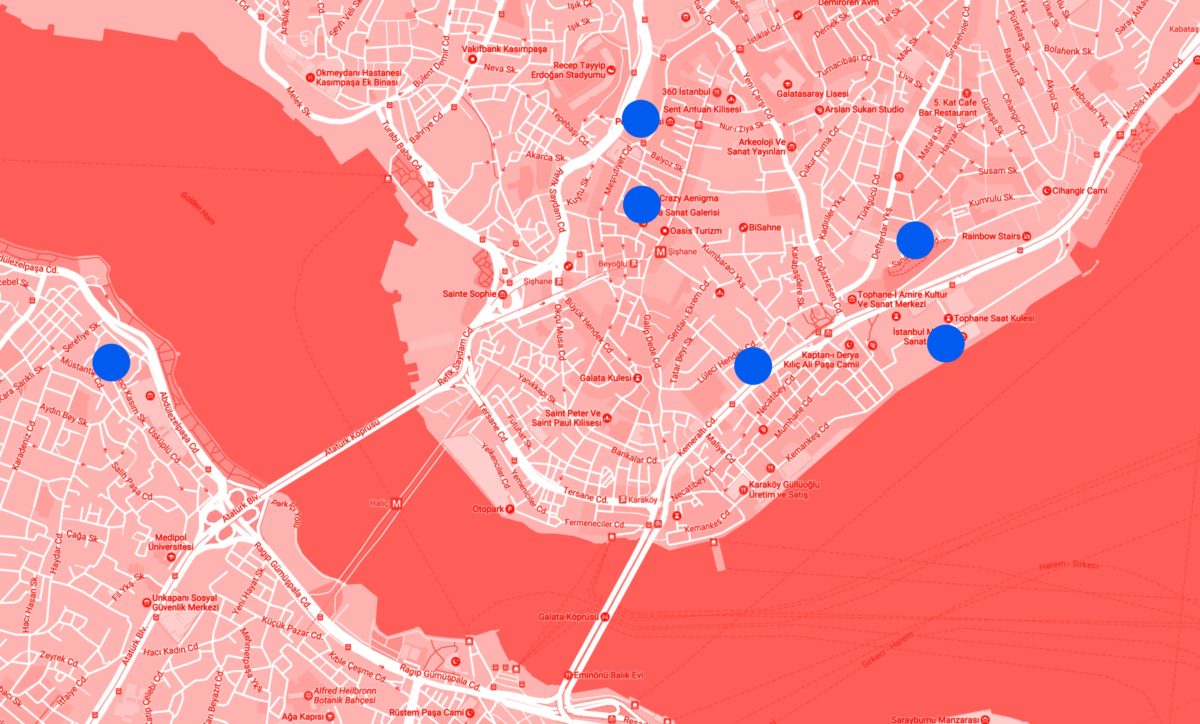 The 15th Istanbul Biennial, entitled "A good neighbour" and curated by the artist duo Elmgreen & Dragset, will take place from 16 September to 12 November 2017. Organised by the Istanbul Foundation for Culture and Arts (İKSV), the 15th Istanbul Biennial will be located in the heart of Istanbul, and can be visited free of charge at six nearby venues within walking distance. Bringing together a variety of artworks dealing with different notions of home and neighbourhood, the 15th Istanbul Biennial  exhibitions will take place at Istanbul Modern, Galata Greek Primary School, Ark Kültür,
Pera Museum, an artist collective's studio, and Küçük Mustafa Paşa Hammam.
Istanbul Modern: Address: Kılıçali Paşa Mahallesi, Meclis-i Mebusan Cd., 34433 Beyoğlu-İstanbul Istanbul Modern, one of the main venues of this year's Biennial, is a former cargo warehouse that gained the status of a modern art museum following its initial use as a space for contemporary art at the 8th Istanbul Biennial in 2003. Situated in the area referred to as the Port of Istanbul, along the Bosporus coast and formerly known as Antrepo No. 4, the current building was designed by architect Sedad Hakkı Eldem between 1957 and 1958. After undergoing renovation, the warehouse was opened as the internationally renowned Istanbul Modern in 2004. Currently, the harbour area around Istanbul Modern is under  substantial transformation, and issues around transforming neighbourhoods will be reflected upon in several of the selected artworks to be displayed in the museum.

During the 15th Istanbul Biennial, Istanbul Modern will display a number of multinational artistic positions  in an open plan architecture. The works will be large-scale sculptures and installations as well as historical artworks. As a long-standing partner of the Istanbul Biennial, Istanbul Modern symbolises the continuity, experience and expertise of the exhibition.
Galata Greek Primary School Address: Kemeraltı Cad. No: 49, 34425 Galata, Beyoğlu-İstanbul
Galata Greek Primary School, located in Karaköy and in close proximity to Istanbul Modern, was built in the neo-classical architectural style in the late 19th century. The school was one of the main educational locations for children of Greek descent in Istanbul for over a century. Due to a decrease in the Greek population of Istanbul in the second half of the 20th century, the school officially closed its doors in 2007. Along with being a recurring venue of the Istanbul Biennial, the building has a special atmosphere due to its legacy as a school, a place for learning and knowledge and a key institution in any residential neighbourhood.

Ark Kültür Address: Kılıçali Paşa Mahallesi, Batarya Sk. No:2, 34430 Beyoğlu-İstanbul
Ark Kültür, located close to Istanbul Modern and Galata Greek Primary School, was originally built as a family home. The two-storey Bauhaus -style house was inhabited by different families throughout the decades. After going through a change in its physical appearance under the ownership of a single male – an Italian antique dealer who changed the building to an eclectic living space – the house was restored back to its original state in 2008 by architect Gülfem Köseoğlu, the last owner who converted the building to exhibition and cultural space. For the 15th Istanbul Biennial, the space will yet again be inhabited, this time by a fictive character. Thus, the venue will be transformed into a domestic setting, a "house museum", in which visitors can engage in layered narratives.
Pera Museum Address: Meşrutiyet Caddesi No:65, 34430 Beyoğlu-İstanbul
Pera Museum was originally built by architect Achille Manoussos as Hotel Bristol in 1893. Suna and İnan Kıraç Foundation founded the Pera Museum after the neo-classical building's renovation in 2005. Located just off İstiklal Caddesi, this private foundation museum has three large collections: Orientalist Paintings,Anatolian Weights and Measures, and Kütahya Tiles and Ceramics. The first two floors house selected works from these collections. The 15th Istanbul Biennial will take place on the top three floors of the five-floor museum, with Biennial works interspersed with the museum's Orientalist Painting collection.
Artist Collective's Studio Address: Asmalı Mescit neighbourhood. As part of the 15th Istanbul Biennial, a participating local artist collective will be redesigning their studio, which is an apartment in Beyoğlu. The  venue will welcome smaller crowds on a fixed viewing schedule to explore a new and immersive installation developed by the collective specifically for the Biennial.

Küçük Mustafa Paşa Hammam Address: Yavuz Sultan Selim Mahallesi, 34083 Fatih-İstanbul
Küçük Mustafa Paşa Hammam is located in the Fatih neighbourhood across the Golden Horn. While it is the site furthest away from the other venues, it still remains within walking distance. Constructed in 1477, the hammam is one of the oldest Turkish baths in Istanbul and beautifully portrays the traditional social structures of the Ottoman period. Both the male and the female sections of the hammam will be used for the Biennial, the latter will be used as an exhibition space for the first time. A female artistic position will occupy the male section and a male artistic position will occupy the female section. Thus, this venue will engage with the traditional infrastructure of the spaces by challenging its traditional gender separation – and as such, the perception of codices of identity such as masculinity and femininity, as well as patriarchal and maternal structures.
(press release)