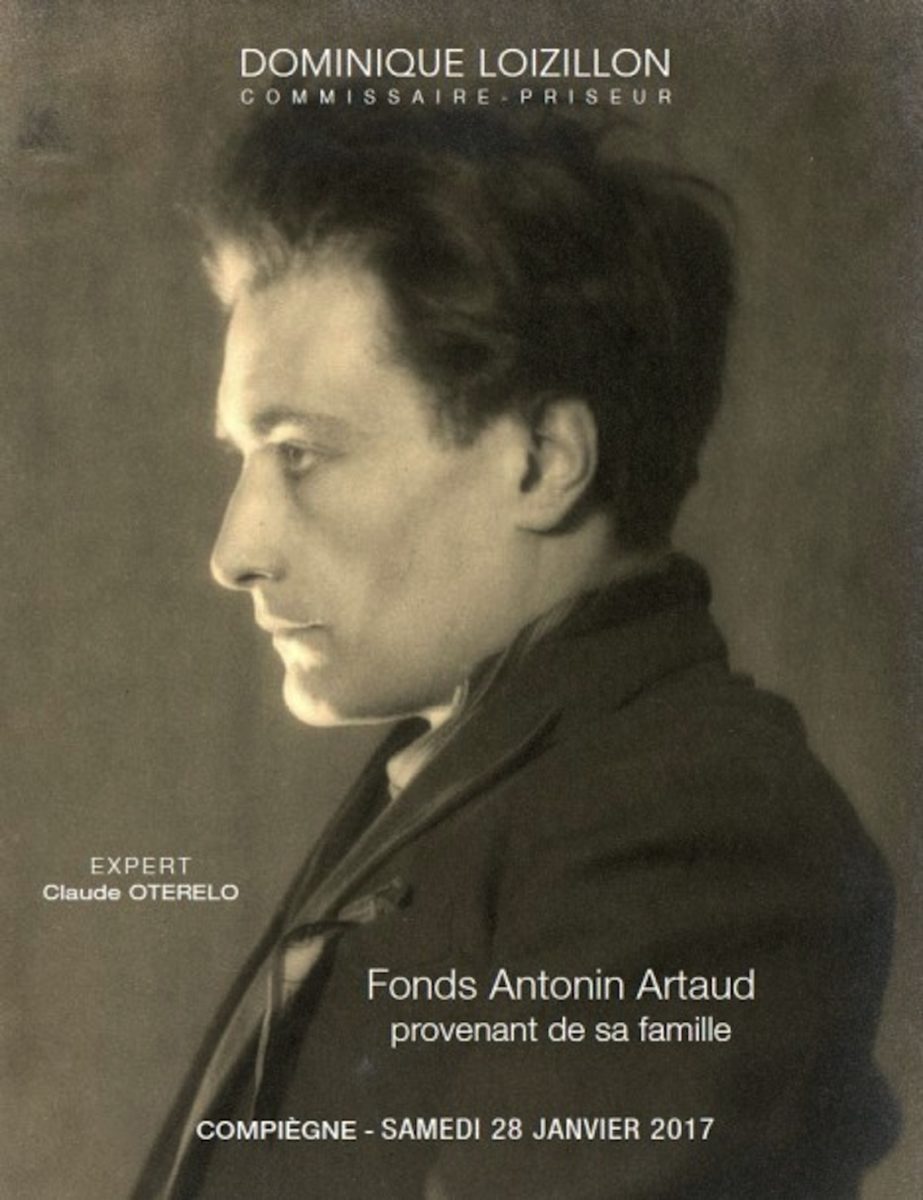 The archive of Antonin Artaud (1896-1946) will get on the market for just 800.000 Euros. Artaud is one of the greatest authors, actors, poets and drawers, "someone affiliated with the surrealists, someone who was interned in a psychiatric ward on multiple occasions and received electro-shock treatment leaving permanent scars, as well as someone who was no stranger to artificial paradises. In his self-emancipation and his violence, Artaud was the most rock n' roll, or better yet, the most punk of modern poets.
It's also well known that the actor Johnny Depp is a collector of Antonin Artaud artefacts. In addition Artaud exerts a strong influence over contemporary artists such as  Jean Dubuffet,  George Baselitz and Kiki Smith.
On 28 January the auctioneer from Compiègne (86 kilometres outside Paris) Dominique Loizillon is selling a unique haul of 128 lots (photos, letters, manuscripts – estimated in total at around 800,000 euros).
These belonged to Antonin Artaud's family and retrace for posterity the life and the work of this almost self-described 'suicide provoked by society'.
The decision was taken to hold the auction in Compiègne due to its proximity to the home of Artaud's sister's son.
'As well as the souvenirs kept by the mother and relatives, the family recovered various pieces from the asylums where Artaud was interned,' explains the auction expert, Claude Oterelo, a specialist in the Dada and surrealist movements.
In 1918 Artaud sojourned near Neufchatel where he spent his time drawing. The auction includes one of his very first sketches inside an asylum, 'Portrait of the patient B', a very dark charcoal in an expressionist style that the specialists (c.f. the Bibliothèque Nationale catalogue) believe to be a self-portrait. It is estimated at 40,000 euros.
One of the best-known photographic portraits of the poet was taken in 1926 by the great Man Ray, who was part of the surrealist circle.
One of the prints was owned by Artaud's mother up until her death, although unfortunately she cut out the signature to fix the photo in a frame. (Estimate: 6,000 euros).


Artaud's passport, issued in 1936, would serve as a notebook towards the end of his life. Inside are scraps of words and poems like 'du sein d'un ciel de lit d'un lit sans ciel' (estimate: 20,000 euros).
At one stage, he thought he was being persecuted. In response, he wrote what he called 'destiny-letters', full of denunciations and insults, like the one from 1938 addressed to Anne Manson: 'I have a debt to settle with you, my girl, for attempting to poison me.' He never sent it though (estimated 4000,-).
The most startling missive, included in all the exhibitions dedicated to him, is dated 1939 and addressed to Hitler. Full of rage and contradictory assertions, it is estimated at 10,000 euros. But like a large number of documents in this forthcoming auction, the estimate is very conservative and is highly likely to be exceeded.
Interesting for art history aficionados is Artaud's copy of the catalogue from the 1946 Van Gogh exhibition in Paris, which inspired him to pen the legendary essay 'Van Gogh, the suicide provoked by society' (estimated at 6,000 euros). He has appended to the cover a series of marks  as well as a few wine glass stains. The object was shown in Paris at the Musée d'Orsay in 2014 as part of the 'Van Gogh/Artaud' exhibition.
The final photos of the poet have a tragic quality. Dated 1947, they were pinned in his bedroom in a clinic in Ivry (estimate: 20,000 euros).
Antonin Artaud incarnated the revolt of fine arts and literature in magical fashion. (Press Release)
28 January. Compiègne. www.loizillon.com